Peak Design has quite the range of straps and they are great for all shapes and sizes of cameras. PD has really evolved their bags and straps into a full system meant to work well together and I have to say that it does that very well. I own several of their bags and you can ask anyone at the store how I exclaim on a daily basis how much I have managed to fit in the Tech Pouch on that particular day….it never ceases to amaze me. Just the other day I discovered another compartment I didn't even know it had! But we've already talked about their great Tech Pouches before, so now I'm going to talk about their strap and clip system which integrates nicely with their bags.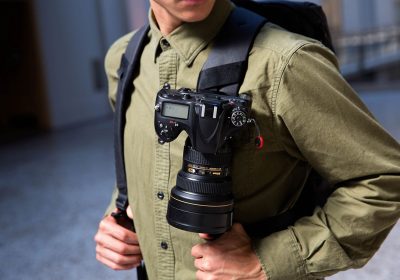 The item that sort of started it all is the Capture Clip. This is essentially a small plate like you would use for your tripod that screws into the bottom of your camera where a tripod plate would go. In fact it IS a tripod plate, but this particular plate also clips into their Capture system, which you can mount to your belt or backpack shoulder strap. Or really any kind of strap that has a bit of thickness to it – like a Peak Design Everyday Messenger, Sling or Backpack! The Capture Clip is designed to make it so your camera is always at the ready, hanging right within your grasp. A quick release button allows you to remove the camera off the Capture Clip quickly and easily when you want to take your shot and then snap it back in when you are done, knowing it is secure while you hike around.
Peak has made all their bags with many attachment points so you can attach the Capture Clip securely to them in those key spots, but the Capture Clip is designed to fit on most backpack straps from other brands as well. The Arca Swiss style plate that it comes with will also fit in most tripods, making it even for useful! (Manfrotto compatible plate also available. Sold separately.) We have the Peak Capture Clip in stock for $94.95.
https://www.beauphoto.com/product/peak-design-capture/
From there Peak Design expanded into a system of camera straps. All of the PD straps work on a system designed around their quick release Anchor Links, which make them all interchangeable as well as easy to take on and off your camera for your various needs. Extra Anchor Links (pack of 4) $26.95 https://www.beauphoto.com/product/peak-design-anchor-links/
The two most popular straps in their line up would be the Slide and the Slide Lite. This well designed camera strap includes the Anchor Links that attach to your camera and make it possible to quickly remove the strap, as well as two adjustable buckles that make it easy to tighten and loosen the strap so that you can keep it tight against your body while you walk and loosen it to take photos or take it off. The Slide Lite is very much the same strap but not quite as wide, which is great for smaller cameras or smaller body types.
Peak Design Slide Strap $87.95 https://www.beauphoto.com/product/peak-designs-slide/
Peak Design Slide Lite Strap $67.95 https://www.beauphoto.com/product/peak-designs-slide-lite/
The Slide and Slide Lite are great for DSLR cameras, as they are a bit more rugged and heavy weight. If you have a smaller camera, perhaps a mirrorless system or a film camera, you may want a lighter weight or slimmer strap, which is where the Leash comes in. This strap is also interchangeable with the Anchor Links, but also includes a small plate so that you can either attach the camera to one of the regular strap anchor points as well as the bottom tripod plate screw in attachment hole or via both regular strap anchor points at the top of the camera. You can also use it as an extra safety tether on a larger DSLR when you have a large lens attached. The Leash also has the great quick-adjust buckles to make sure the strap fits exactly where you want it at all times. Peak Design Leash $53.95 https://www.beauphoto.com/product/peak-design-leash/
If a full neck strap is not what you're looking for, Peak Design has thought of that too. For smaller point and shoot style cameras or compact mirrorless you may only want a wrist strap as a tether to keep your camera safe from that horrifying drop to the cement or into water. The PD Cuff is the perfect solution for that. This strap attaches easily with the Anchor Link system and can therefore be moved from camera to camera or even binoculars. Peak Design Cuff $39.95 https://www.beauphoto.com/product/peak-design-cuff/
The last great option Peak Design has to offer when it comes to ways to carry your camera is the Clutch. This hand strap is perfect for those that always like to have their camera right at hand at all times. It fits snugly to your hand and attaches securely to the right top strap anchor on your camera and the bottom tripod attachment with the small plate included.
Peak Design Clutch $53.95 https://www.beauphoto.com/product/peak-designs-clutch/