Well, we all got out there for the month of June and shot our respective "shitty" cameras and the results are certainly a mixed bag! It was unclear whether we all hoped to get "shitty" photos from our "shitty" cameras, or good photos. It turned out to be quite the mixed results, some of us did very well and got some great shots (all things considered really) and some of us (me) got some super shitty shots…as in not a single image in focus. So here are our results! Thanks to everyone who sent in their images!
For more info about this challenge, see our previous post: https://www.beauphoto.com/camera-speed-dating-special-shitty-camera-challenge-edition/
The original Twitter feed that started it all is here: https://twitter.com/ShittyChallenge
I shot two cameras for the challenge, a Minnie Mouse special and a Panorama Panoramic camera. The Minnie Mouse camera, as seen below with the Bumblebee camera that Nicole shot, turned out to basically not focus at any distance. At least not that I shot with on a full roll of 24 exposures. The closest it got to being marginally in focus was at about 5 – 6ft in the shot of my dog Hudson. It also didn't have a view finder and I thought I was pointing it in a direction that would still work out to be a well framed photo but it seems I was wrong…here are a few photos from that roll, they are certainly not worth posting too many! Shot on AGFA Vista 400.
For all the galleries, click to see the images larger!
The Panorama camera fared a bit better, and actually was not that shitty at all! Aside from the fact that it just masks the 35mm frame, it took some interesting photos. I enjoyed the perspective the faux panoramic created though and since I wasn't the one who loaded the film (Nicole did), I actually didn't realize until it was finished that it was black and white! These were expired Kodak BW400CN.

Nicole had better luck with her Bumblebee Camera (as seen above with the Minnie Mouse Camera.) It took pretty decent photos with nice colour too! Shot on Ultramax 400.
Nicole also shot the Monkey Camera (on loan from our "shitty" camera collector, Chris) with her friend Safora one morning. Probably to be expected, it didn't focus very closely, but otherwise did not bad!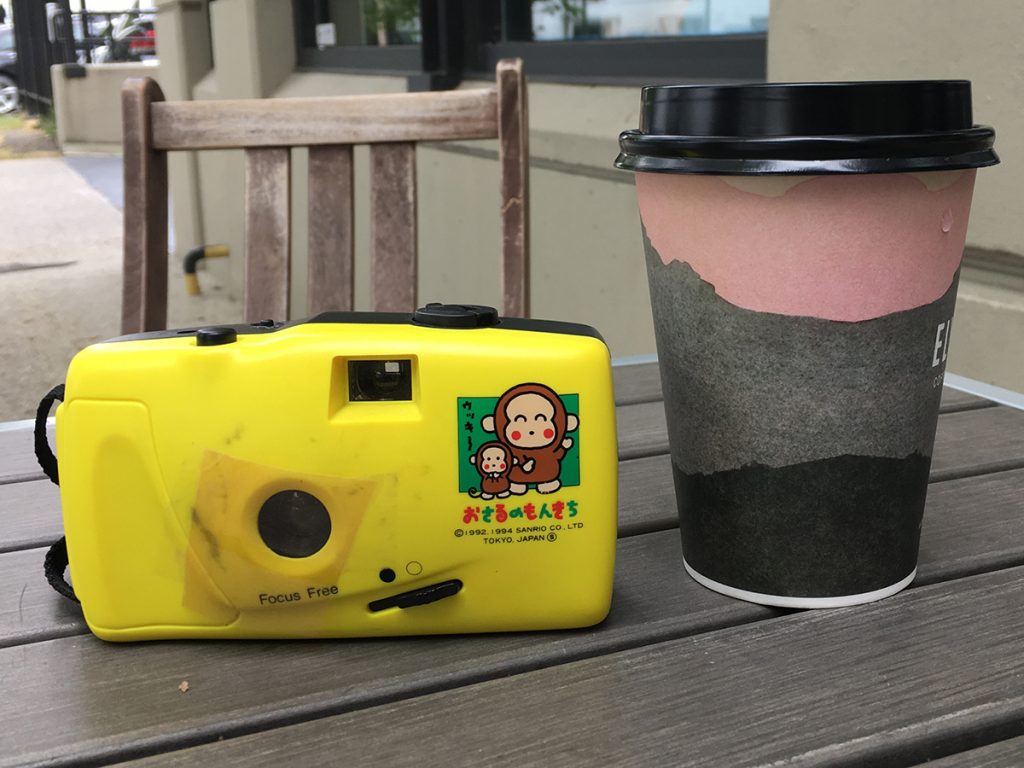 We had a great response online to this challenge and quite a few people sent us their photos for the blog! It was great to see a fun challenge ignite that love for film in so many. So here are some photos from a few of our regular customers as well as some new friends around the world via Twitter! Thanks everyone!
First up we have Chris, our connesiur of "inexpensive" cameras. Since he had so many to choose from he shot a few different cameras for the challenge and he also got creative with some Revolog film too! He has a Flickr page with all his images as well here: https://www.flickr.com/photos/czarf/albums/72157697824042114
Spider-Man shot on Revolog Plexus film –
SpongeBob SquarePants camera shot on Revolog Texture film –
TV Guide camera shot on Kodak Ultramax 400 –
Batman & Robin camera shot on Dubblefilm Monsoon film –
Tashika AZ2900R camera shot on Kodak BW400CN film:
Wallace Koopmans took some of my favourites from this challenge on his "Happy Smile" camera, shot on Kodak Ultramax 400 –
Zach used the coveted Hello Kitty camera shot on Fuji X-Tra 800 film –
From Denise, which camera & film she shot we are not entirely sure as the photo of it came through quite "low-fi" as well, but her shots she took with it are great though!
Next up we have Adam, who shot a couple cameras! First off we have the Canon Sure Shot Owl shot on Japan Camera Hunter Street Pan 400 –
Adam also shot the HC 2000 camera shot on Fuji Superia Xtra 400 –
Byron shot the Vivitar T200 –
Lee Webb sent us some great shots all the way from Shanghai, shot on a Canon Sure Shot AF-7 with Rollei Retro 400s. Lee also has his own blog where he's talking about the challenge! Check it out here: http://www.myfavouritelens.com/shitty-camera-challenge/
Some great shots from Celina here with awesome double exposures from the SeaLife 35 Reefmaster! Celina mentioned that this camera was meant to be an underwater camera, but the housing came off so it was just a regular shitty camera.
Ben also found an underwater camera for his shitty camera challenge and put it to good use! Looks like it's underwater housing was still intact too…
We've got an added submission here from Barry using Lomography 110 film, with his Kodak Pocket Instamatic 20. Thanks, Barry!
And last but certainly not least, we've got some interesting shots from Tom Brouns on possibly the most adorable of all the shitty cameras! A little film cannister shaped camera! These were shot in Antananarivo, Madagascar. Tom also has his own blog post going up for the challenge, check it out here: http://tazmpictures.com/site/?p=4627